Books written by, or featuring the works of, Dan & Jessica Schneider, and other quality writers
To search Cosmoetica, click here. Despite this site's providing over 100,000 searches per month to Google, that company refuses to allow me to customize a site search w/o wanting to charge me $1000/yr for the privilege of providing them with customers and revenues.
$2.99
Less than $3 for Jessica Schneider's third book, written in 2004, and first great novel, Part One of The American Earth Trilogy.
Quick With Flies Facebook Page
Pandu's Season, Jess's Blog!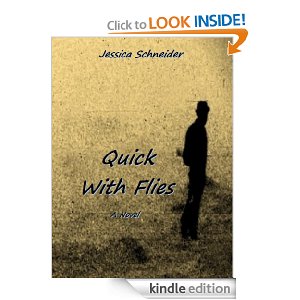 by Jessica Schneider
Twenty-three year old Howard Johnson has recently lost his family and his farm to the many dust storms of the Great Depression. Hitching the rails, he decides to leave his Kansas home and head east in search of his brother, where he encounters homeless men, thieves, and a young con-artist along the way. As he begins to set up a new life for himself in Virginia, the young African-American protagonist is presented with new found friends, but also hatred, poverty and cruelty.

Quick With Flies is a rumination for the mind and soul, wherein a young man must face the many misfortunes that eventually shape his perception of his own dignity and humanity. He might find peace, but at what price? Comfort, but to what end? And how much of this American Earth is really his? Such questions are his tale.
Coming Soon!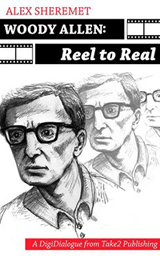 by Alex Sheremet
Everyone has an opinion of Woody Allen, whether those opinions come from a learned perspective … or from the tabloids.
Welcome to Woody Allen: Reel to Real
the first of our DigiDialogues as a place and means to generate and further an electric 'discourse'.

As with all future DigiDialogues, Woody Allen: Reel to Real is slated to be published as an eBook in the very near future with this accompanying website established to generate and aid in heated discussion on both Woody Allen's body of work … as well as the critical debates that surround it ... with that full dialogue published in the eBook.